Products >
Bertie mid glass 3 way large plate cluster light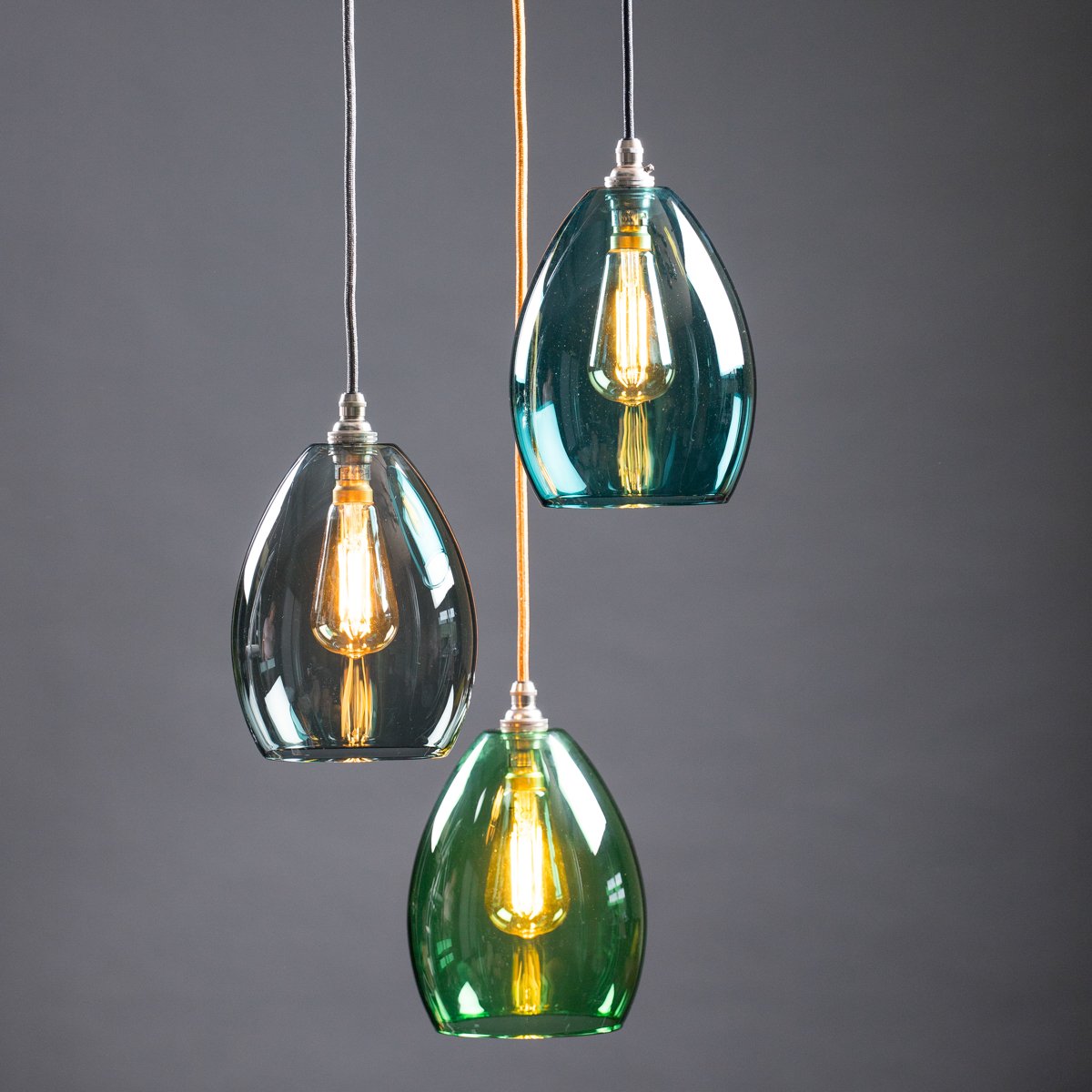 Bertie mid glass 3 way large plate cluster light
£597.00
In Stock
3 - 5 Days (Please enquire if urgent)
If you can't see what you are looking for please get in touch, the options are endless so it isn't possible to list them all on our website. We'd love to hear from you.
Description
Our beautiful British hand blown, Bertie Mid coloured glass cluster, consists of three shades, 16cm W x 21cm H, in your choice of coloured glass. Choose from Amber, Lilac, Pink, Pale blue, Dark Blue, Teal, Green, Smoke, Opal and Yellow.
This is a variation on our traditional 3 way mid cluster that has a larger ceiling plate and gives you a more spaced out look to your cluster. The ceiling plate is 26cm in diameter and 2.5cm deep, available in as standard in either brushed nickel, bronze or brushed copper. Other finishes are available, please drop us an enquiry message for lead times and what finish you are looking for.
Hang at the same or at varying lengths, using our stunning fabric cables to create a beautiful pendant cluster light. The cluster comes with your choice of metal or painted finish multi outlet ceiling rose, 3 x 1m lengths of cables and choice of British B22 lamp holder. This looks wonderful on a landing or over a kitchen table.
Optional add on extras include extra cable and vintage style, squirrel cage, extra warm white 4w or 7.5w LED dimmable light bulbs.
If you would like a larger cluster, please contact us. We can create clusters with as many lights as you would like.
Specification
Please note that all electrical fixtures and fittings should be installed by a qualified electrician. All individual electrical components carry CE (European) approval.
Shade size 16cm width x 21cm height x 3. Comes with British B22 brass or nickel lamp holders and three x one metre fabric cable as standard. Supplied without light bulbs. Ceiling rose diameter 26cm, supplied with fixing bracket.
This light is dimmable when used with a compatible dimmer, our light bulbs are also dimmable.
All our lighting is designed, produced and assembled in the UK, each light fitting is hand made to order in our Yorkshire workshop.
Reviews
Bonnie Cmonty 5 Star review on 11/06/2020
We are currently working on an extension to our property and decided to add some lighting from Glow. We have a very high ceiling in our master bedroom and the addition of a Bertie and Molly cluster has had an immediate impact on the room. It looks absolutely fantastic! We have also had this light, but in different colours put up in our hall, given this also has a high ceiling. Based on these two lights, we decided to keep the same theme going in both our downstairs hall and living area. We are over the moon with the results. We own a small building company and have shown a few clients our home. They were so impressed that they decided to have some in their properties too. We would most definitely recommend Glow Lighting to anyone looking for that 'something special' to compliment their home.
Sara Hodges 5 Star review on 25/02/2020
We chose 7 lights in a spiral in shades of green with green cable. They look stunning and we are thrilled with them.
Related Products