Products >
Molly Mid 5 Way Cluster glass pendant light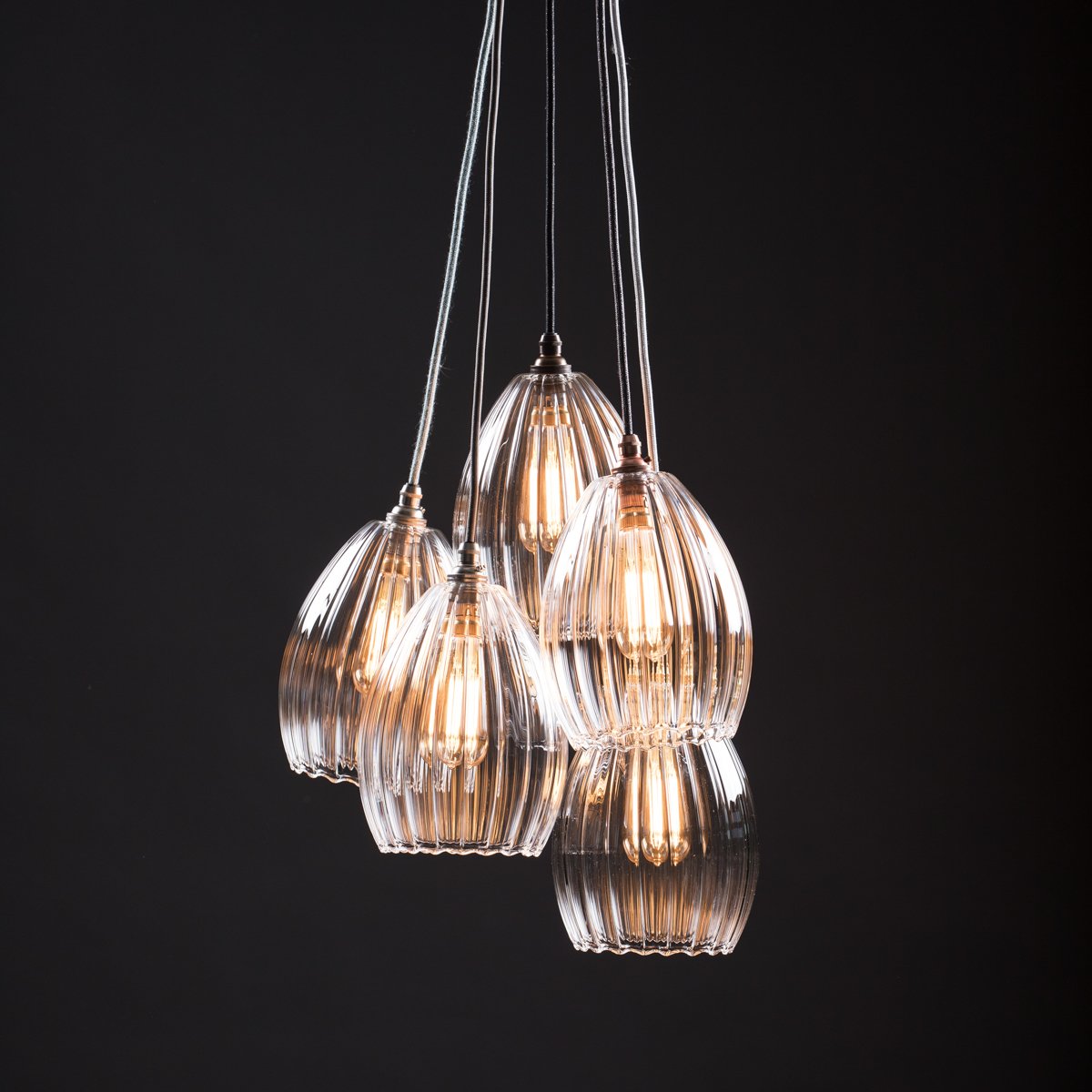 Molly Mid 5 Way Cluster glass pendant light
£815.00
In Stock
3 - 5 Days (Please enquire if urgent)
If you can't see what you are looking for please get in touch, the options are endless so it isn't possible to list them all on our website. We'd love to hear from you.
Description
Five of our marvellous Molly mid hand blown clear ribbed shades hung together to make a cluster. Hang at varying lengths or bunch together using our stunning cables to create a beautiful pendant cluster light. a great way to bring more light to an area with one ceiling point.
The Molly mid 5 way cluster comes with 5 ribbed Molly mid shades, 1 multi outlet ceiling rose of your choice in metal finish, 5 British B22 lamp holders and 5 x 1m of fabric cable.
Optional add on extras include extra cable and vintage style, squirrel cage 4w or 7.5w LED dimmable light bulbs.
All our cluster lights are made in our Glow Lighting workshop. If you would like a larger cluster or to have one with various shade shapes and cable colours, please contact us for a bespoke quote. The Molly mid 3 Way is available for £395.00
Specification
Supplied without light bulbs. This light is dimmable when used with a compatible dimmer, our light bulbs are also dimmable.
Please note that all electrical fixtures and fittings should be installed by a qualified electrician.
All individual electrical components carry CE (European) approval.
Shade size 16cm width x 21cm height. Supplied with 5 British B22 lamp holders, a 12cm diameter multi outlet ceiling rose and 5 x one metre fabric cable as standard.
Related Products