Products >
The Frill cluster Glass Pendant Light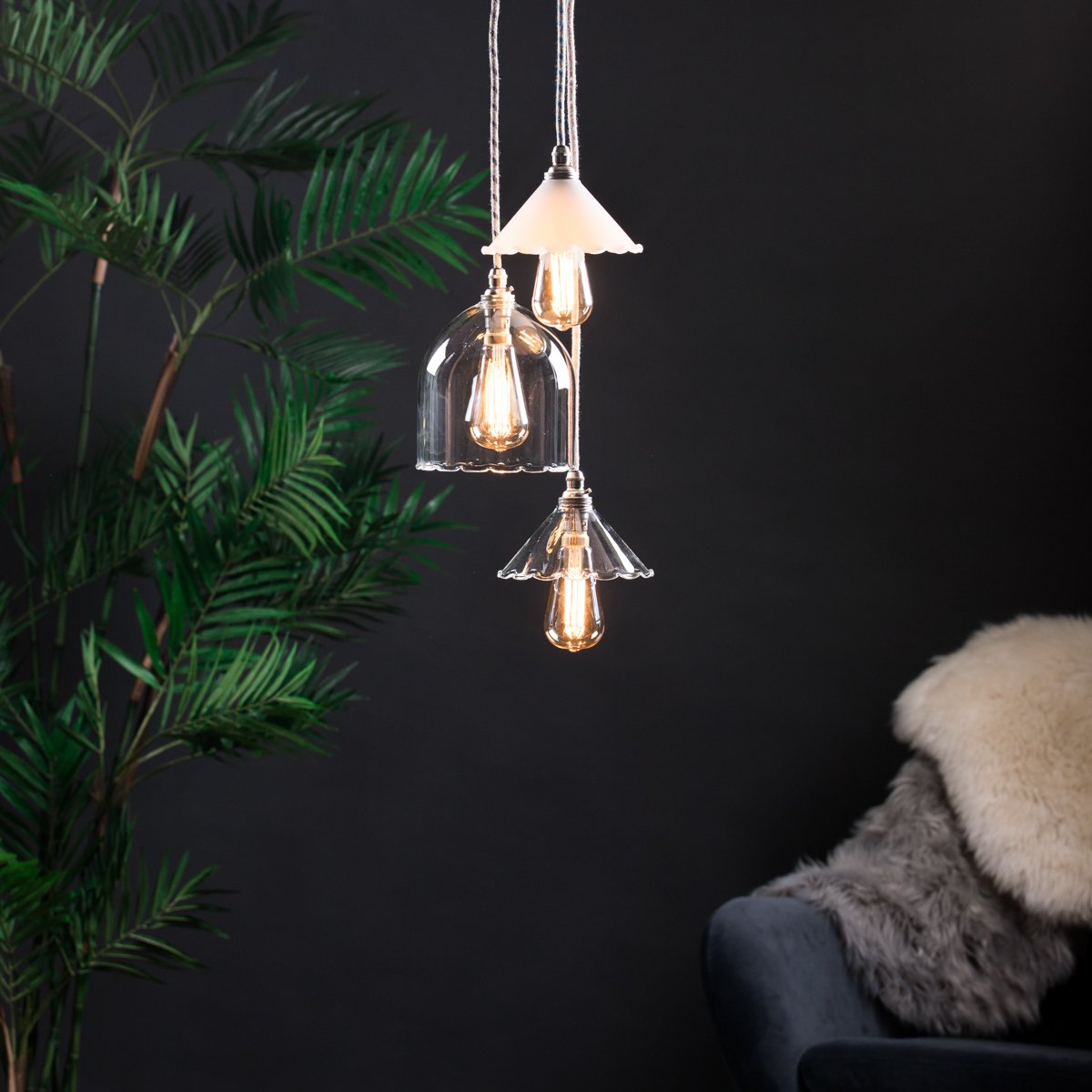 The Frill cluster Glass Pendant Light
£419.00
In Stock
3 - 5 Days (Please enquire if urgent)
If you can't see what you are looking for please get in touch, the options are endless so it isn't possible to list them all on our website. We'd love to hear from you.
Description
Our fabulous hand blown frilled glass shades teamed together to produce a stunning cluster.
The Frilled Cluster comes with one opal Florrie shade, one clear Florrie shade and one Frieda shade. 3 x 1m fabric cable, colour of your choice, a 3 way multi outlet ceiling rose and 3 x British B22 lamp holders.
Optional add on extras include extra cable and vintage style, squirrel cage, extra warm white 4w or 7.5w LED dimmable light bulbs. Please note the standard light bulbs are designed to hang below the bottom of the Florries, as shown in the photographs. If you would prefer our mini globe bulbs for these then contact us.
Make a statement with this quirky cluster pendant. The Frilled cluster looks stunning on a landing or over a kitchen table or island.
If you would like a cluster designed with different shades than offered here, please contact us for a bespoke quote.
Specification
Supplied without light bulbs. This light is dimmable when used with a compatible dimmer, our light bulbs are also dimmable.
Please note that all electrical fixtures and fittings should be installed by a qualified electrician. All individual electrical components carry CE (European) approval.
Dimensions Florrie: 15cm width, 6cm height. Frieda: 15cm width, 16cm height.
Supplied with 3 glass shades, 3 x 1m fabric cable, 3 x British B22 bayonet lamp holders and a 12cm diameter multi outlet ceiling rose as standard.
All Glow Lighting lights are designed and assembled in our North Yorkshire based workshop using British components.
Related Products