Products >
Lenny Industrial Metal Pendant Light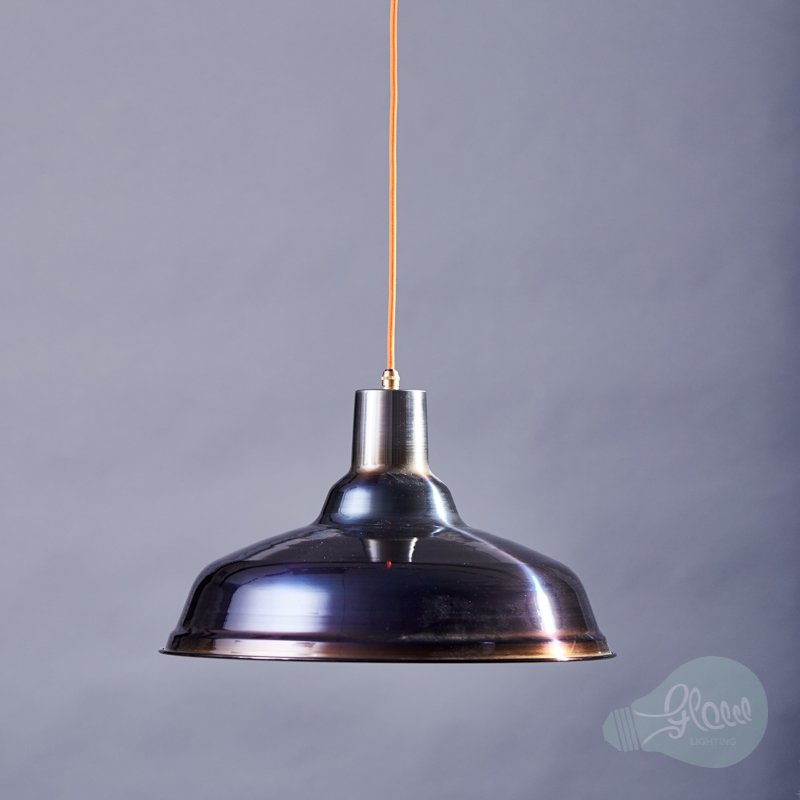 Lenny Industrial Metal Pendant Light
£149.00
In Stock
3 - 5 Days (Please enquire if urgent)
If you can't see what you are looking for please get in touch, the options are endless so it isn't possible to list them all on our website. We'd love to hear from you.
Description
Our Lenny factory pendant is burnt and oiled to give its unique finish, it is then lacquered and the interior is hand painted white.

This shade looks wonderful on its own or in a set hanging over an island or kitchen table.

It is a hand spun steel shade, produced in Yorkshire which is then oiled and blow torched to give an extraordinary iridescent finish, we love it over dark granite worktops.

Add a vintage style 4w or 7.5w dimmable light bulb to complete the look.
Specification
Supplied without light bulb. This light is dimmable when used with a compatible dimmer, our light bulbs are also dimmable.
Please note that all electrical fixtures and fittings should be installed by a qualified electrician.
All individual electrical components carry CE (European) approval.
Dimensions: 37cm steel factory pendant c/w British made B22 lamp holder and hand spun 8cm diameter ceiling rose, supplied with one metre fabric cable as standard.
Reviews
Colette Ward 5 Star review on 21/03/2016
Highly Recommend as I have their beautiful pendent lights in my kitchen, no job too big or small & hand made & finished beautifully ... also good to see a local company
Lindsey Lidster 5 Star review on 16/10/2020
Emily at Glow Lighting was so helpful, speaking to me about different lamps. I bought two Bertie wall lights in smoked and a gorgeous Lenny. When my Lenny arrived I was unsure as the colours were slightly different, Emily refunded my money immediately until the colours were torched to my liking and I was 100% happy. No quibble The quality of the product is evident and the customer care second to none. I will be ordering more products and I'm so very happy to say I can use a local buisness that offers quality, fantastic service and a smile
Liz Palmer gave a 5 star review on 19/02/2022
Glow Lighting showcase the very best of British craftmanship and exceptional customer service. I cannot recommend them highly enough. Emily went out of her way to help me find exactly the right shade of lights that worked in my room and nothing was too much trouble. I am delighted to have been able to buy from Glow Lighting, they deserve their success.